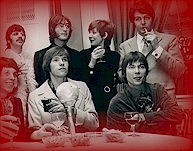 For approximately ten years (1976-1986), John was involved mainly with the British singer, Cliff Richard, regularly touring Europe, Australia, New Zealand, America and the Far East as one of a three-man backing vocal group and it was in this situation that he met Jesus.
Since becoming a Christian in 1979, John's personal lifestyle has drastically changed, having a much greater love for his family and home life but giving the glory to God for the continuing success of his professional life and the wisdom to balance the two.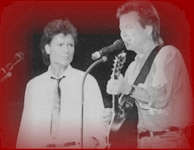 'OH THANK THE LORD FOR HE'S SO GOOD, HIS LOVING KINDNESS IS FOREVER'.
"I like to compare my conversion to the picture of a man up to his neck and sinking in quicksand, when suddenly a hand takes him by the scruff of the neck and pulls him out and places him on solid ground; because really and truly that is what has happened to me.
"I sheepishly came to the Lord on Sunday the 11th March, 1979 while on tour in South Africa with Cliff Richard and my life up to that point had been one of self-indulgence, insecurity thickly disguised with bravado and a sense of the complete and utter futility of life. I could not for the life of me (literally) see any good reason for living. Not that I wanted to commit suicide (although once I did contemplate it but thought that was also futile) but I could not see the point of being here. For instance, how was it that, for the majority of people, life consisted of getting up, going to work to earn money to buy a house, to go to bed, to get up and go to work again etc. etc. etc. What a complete waste of time! Relationships also seemed unsatisfactory; you'd make a new friend, really get off on them for a time and then it would turn sour and die away. I had a handful of friends and many, many acquaintances - and I counted myself lucky.
"You see my life wasn't a 9 - 5 life. I am a self-employed musician apart from one year in a Bank (yuk) and for the last five or six years I have earned a good living. But it seemed that apart from falling into all the usual but necessary ruts of society (e.g. buying a house, car, washing machine, etc) the money that I earned just helped me to indulge myself more lavishly. The frightening part about this was that the good sense and restraints that were built into me as a result of a good upbringing were gradually being washed away in a sea of alcohol and sometimes pot, uppers and downers and any good reason to sustain them. You are probably thinking by now, 'What a terribly weak person this is!' and quite rightly so. It wasn't that I didn't love my wife or my two beautiful children; it was just that I honestly wasn't fulfilled from the inside; and then I met with Jesus.
"I was with fifty or sixty other people at that service in Johannesburg but that Preacher might just as well have been talking to me alone. THE HOLY SPIRIT, through him, systematically cut to ribbons all my pretences and illusions, sympathised with me, and told me that Jesus longed to love me if I would only let him. Jesus was standing at the door knocking. At the end of the service there was an altar call but I still sat in my seat defiantly clinging to what was left of my pride. But the Holy Spirit spoke to me in no uncertain terms in bright lights in my head and said, 'It's now or never'. I couldn't carry on the way I was going. I knew that. I gulped, stood up and took a dozen very noisy clog-footed steps to the altar with about ten others and gave in to Jesus. I went outside that church and cried like a newborn baby for a good 30 minutes, the relief, the burdens lifted and the joy all mixed together and running over. What a tremendous moment in my life.
"I pray that if you don't know Jesus, you'll give in to Him as I did and start living in the joy of the NEW LIFE ONLY CHRIST CAN FREELY GIVE YOU.
"I PRAISE GOD that He is now with me; I PRAISE GOD that he has regenerated my spirit and given me power to escape from 'the vicious circle of sin and death' (Romans 8 v2). "
'FOR WE LIVE WITHIN THE SHADOW OF THE ALMIGHTY, SHELTERED BY THE GOD WHO IS ABOVE ALL GODS' (Psalm 9l)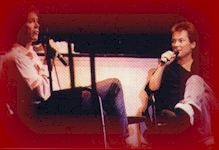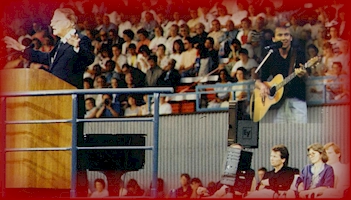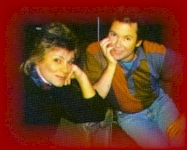 After releasing a CD entitled "The Story So Far", a selection of favourites from his cassette-only releases, "Be in my Heart" and "Go for it", John then completed work on his most exciting project to date, a fresh album of songs recorded in Atlanta, Georgia and produced by one of England's finest producers, Alan Shacklock. The collaboration has produced a meaty, yet worshipful album, entitled "LET ME SHOW YOU". Dedicated to Jackie Pullinger's ministry in Hong Kong, this album is fit, both for the Christian who loves Jesus and solid music and also, we believe, to challenge secular ears as well.
© 2000 Heart Trust. All rights reserved. Heart Trust is a registered charity.
This website is brought to you by Vaughan Allen Web Design.
John's Profile
JOHN PERRY is a musician whose musical pedigree reads like a 'who's who' of rock music. In his role as support singer he has worked with Kiki Dee and Elton John, Roger Daltry of The Who, Leo Sayer, Elkie Brooks, Shakin' Stevens, Roger Whittaker, Al Stewart, as well as Phil Everly and the Beatles.
He sang with all 4 Beatles on 'Hey Jude' in the 60's and even had George Harrison help him move house on one occasion! He met most of the swinging sixties hierarchy such as Jimi Hendrix, Graham Nash, David Bowie, Keith Moon and Mick Fleetwood.
John, who has been a professional musician nearly all his working life, started at the age of 15 playing schools, coffee bars, private functions; proceeded to halls and clubs on the weekends; and eventually turned professional at the age of 18.
Having spent some time in May of 96 in Hong Kong with Jackie, John then spent 8 months (Sept 96 - May 97) touring the UK with Cliff Richard in Heathcliff and having done that now feels ready to take on whatever challenges the future holds!
John's first solo album made in 1985, "Be in my Heart" is a collection of songs that reflect John's feelings and attitudes before, during and after his salvation. His desire is that it may be a blessing to the body of Christ with its simple and direct message. God honoured that desire with the title track being used in Cliff Richard's stage set for many years, with it being recorded on "Now You See Me, Now You Don't" Album and reaching the top 5 in the American Christian Charts in 1990, sung by Phil Keaggy.
Since January 1986, obeying God's call, John has been 'full time' in Christian ministry, doing everything from leading worship both at major events and his local Church to giving seminars on worship and doing concert work worldwide. Proclaiming the gospel through song and testimony, John has seen God move in healing and salvation both at local level and major British festivals.
After two years with the much respected, Tony Rivers & the Castaways, a vocal harmony group emulating the Beach Boys, The Four Seasons and sometimes even the Hi Lo's, John went 'pop' and formed a group called 'Grapefruit', managed by Terry Doran, the head of Apple Publishing which was owned by The Beatles. John Lennon (who thought up the name of the group) and Paul McCartney were early mentors of the group and were at their early recording sessions.
John had the usual run in with the drug scene and has come out of it relatively unscathed (still alive to tell the tale) with a compassion for people who are in bondage to any form of drugs and an understanding of the difference a faith in Christ can make.
John sang for Billy Graham on one of his recent "Mission to London" events and has also worked with Josh McDowell and with Jackie Pullinger in Hong Kong and also YFC and YWAM. Lately, John has toured with Don Francisco, Ron Kenoly and also a Cliff Richard Gospel Tour as a guest...that was different!!!
A second album called "GO FOR IT" is inspired by the teaching of Paul in Philippians 3v12-14; that in running the race that is set before us we will require determination, discipline and diligence in the desire to please God in whatever He has called us to do.